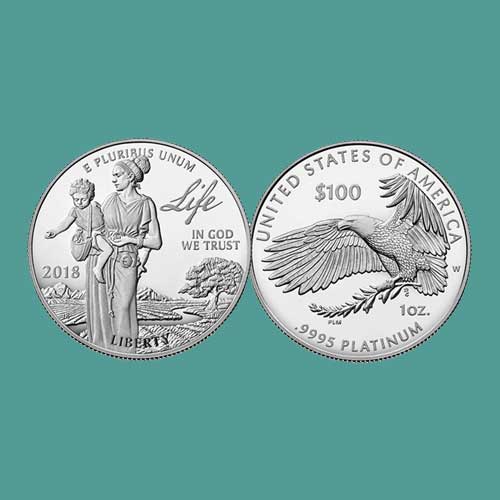 2018 Preamble to the Declaration of Independence Coin
24 Jan 2018 Wed
The US Mint is going to issue Proof American Platinum Eagles celebrating the Declaration of Independence. It is a part of a three-year set of coins that will be issued annually from 2018 to 2020. "Life", "Liberty" and "Pursuit of happiness" will be symbolised by coins released in 2018, 2019 and 2020 respectively.

The proof version of the Platinum Eagle bullion coin was introduced n 1997. A different reverse design was used every year following various themes. However, in 2018, designs were changed on both sides.

The U.S. Declaration of Independence was signed on 4th July 1776 when American colonies expressed their desire for independence from Great Britain.

The obverse design features Lady Liberty wearing a classical Greek peplos holding a child who is spreading seeds on the ground from a pouch. Liberty also holds some seeds in her left hand. A sword is in a sheath hanging from Liberty's belt. The background depicts ploughed fields, mountains, greenery, a tree and a river.

Inscriptions on the obverse include E PLURIBUS UNUM, LIFE, IN GOD WE TRUST, the date 2018 and LIBERTY. Designer Justin Kunz's initials "JK" and sculptor-engraver Phebe Hemphill's initials "PH" are also featured on the coin.

The reverse features a flying eagle holding an olive branch in its talons. Designer Patricia Lucas-Morris's initials "PLM" are also inscribed. The head, body, and wings have different texturing. Other inscriptions include UNITED STATES OF AMERICA, the denomination $100, weight-purity .9995 PLATINUM, 1 OZ and mint mark "W" for West Point. Sculptor-engraver Don Everhart's initials are also inscribed.

The coin has a reeded edge and a mintage limit of 20,000. The 31.119 grams Proof coin is made of 99.95% Platinum.