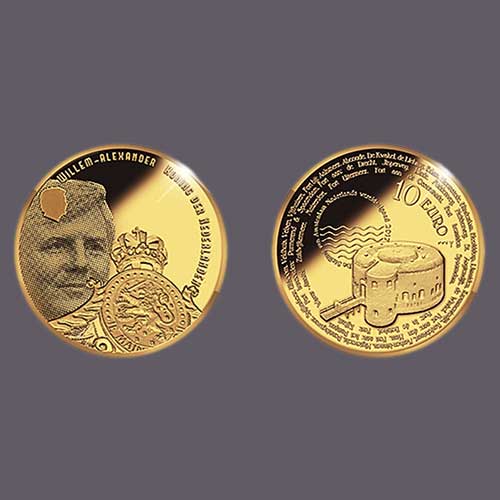 Amsterdam's 'Wall of Water' Celebrated on Latest Dutch Coins
10 Jan 2018 Wed
A group of coins under a series that celebrates Dutch UNESCO sites has been released by the Royal Dutch Mint featuring the historical Defense Line of Amsterdam. These were the last coins to be issued by the Mint in 2017. They were also the first commemoratives that depict St. Servais Bridge as the mintmaster's privy mark of Stephan Satijn.

The Dutch government built an 84-mile-long line around Amsterdam called the Defense Line of Amsterdam between 1883 and 1920. The army, government, and king confided within this boundary when there was an attack. The Defence line had 42 forts with many batteries, dikes, and locks.

The unique hydraulic engineering system gave life to the only fortification based on controlling water. The forts were capable of causing temporary flooding from polders, canals, and locks. It makes invasions difficult as the land around the fort was under water. The forts are used even today as storage, homes, and prisons.

The "wall of water" coin features the Fort on the Ossenmarkt. Names of other forts are inscribed on the coin as well. The obverse features King Willem-Alexander.

Three versions are available: a Proof .900 fine gold €10 coin, a Proof .925 fine silver €5 coin, and a Brilliant Uncirculated silver-plated copper €5 coin. The 6.72 grams gold €10 coin has a mintage limit of 1,000 pieces and costs $575 each. The 15.5 grams silver €5 coin weighs has a mintage limit of 5,500 pieces and costs $73.75 each. The 10.5 grams silver-plated copper €5 coins weigh and has a mintage limit of 15,000 pieces and costs $22.50 each.