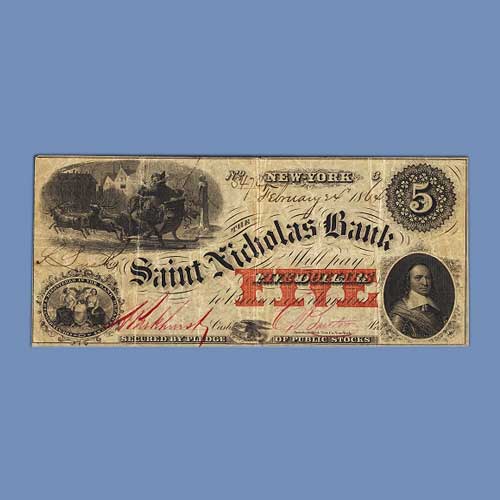 Santa Claus Bank Notes Wish Merry Christmas!
20 Dec 2017 Wed
The American version of a thin St. Nicholas was propagated by Dutch settlers in New York. The poem "The Night Before Christmas" by Moore changed the way we imagine Santa Clause to be, from 1870 onwards.

Many Northern states started declaring a state holiday during Christmas in the mid-1800s. Imagery on banknotes was chosen by banks to build trust among their customers. Santa Claus vignettes were chosen to achieve this feat. Banks also thought that customers might want to treasure a lower denomination note featuring Santa vignette as a keepsake.

Interesting banknotes featuring both the thinner Dutch version and the American version of Santa Clause from the Roger H. Durand Collection was a part of the 2011 FUN Signature Currency Auction held in Orlando by heritage Currency. Most of the notes in this collection are scarce and extremely rare.

This collection was offered by several others before 2011 for impressive amounts. It takes the 23rd spot on the list of The 100 Greatest American Currency Notes. A circulated Santa Claus note was for over $40,000 at the recent auction sale.