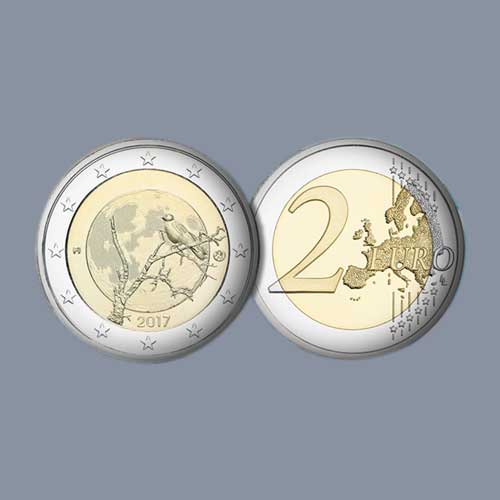 100th Anniversary of Finland's independence Celebrated on Latest Coins
28 Oct 2017 Sat
On 21st October, Finland released the second commemorative two-euro coin belonging to Finland 100 program, celebrating the centenary of the country's independence. The coin honours Finland's nature and was released at the Nature Photograph of the Year gala held at the Finlandia Hall. Just like designs of the silver Finnish Nature collector coin, the new coin will depict the winning entry in the Blue and White special category of the Nature Photograph of the Year competition.

Officials reveal that the photograph taken by nature photographer Kari Auvinen has been converted into a coin design ingeniously. The reverse design is similar to that of circulation coins. The obverse features the full moon over Harmaja and a crow looking down on from its perch.

The crow is common but intelligent and flexible, portraying the modern Finnish character. The winning photograph was compiled from two different photographs as per officials. The Finnish Nature collector coins, of the denomination EUR 10 and 20 feature the same design.

The mintage limit of Finnish Nature two-euro coins is 500,000. 11,000 of them will be in proof-quality struck at Mint of Finland's factory in Vantaa. The coins are legal tender in the eurozone. During the Nature Photograph of the Year gala, a limited number of proof-quality special coins were on sale, deliveries of which began from 23rd October.