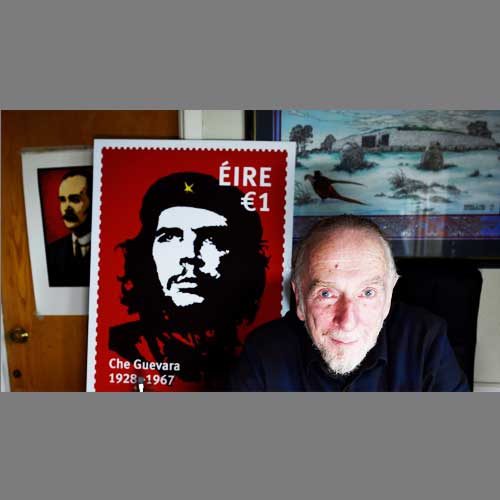 Che Guevara's Irish Roots Honoured with a New Stamp
16 Oct 2017 Mon
9th October was observed as the 50th death anniversary Che Guevara world over. A special postage stamp was issued by Ireland to commemorate this occasion. Ernesto "Che" Guevara led the communist revolution in Cuba in the 1950s. He was captured and executed for trying to launch a revolution in Bolivia.

Che was a left-wing revolutionary with a partial Irish descent. His great-great-great-great-grandfather, Patrick Lynch, was born in Galway in 1715. Young Lynch traveled to the Catholic countries in Europe when he lost his property in religious wars.

Lynch first went to the port city of Bilbao in northern Spain. The city had trade relations with Río de la Plata or present-day Argentina. He became a government official and a captaincy in the militia. In 1749, he married a local heiress and became a part of the colony. The upper-middle-class family played many roles in the history of Argentina and Chile. Che Guevara's father, Ernesto Guevara Lynch, is quoted as saying, "The first thing to note is that in my son's veins flowed the blood of the Irish rebels."

The stamp features the famous two-tone image of Che that was originally produced by Irish artist Jim Fitzpatrick based on a photograph taken in 1960 by Cuban photographer Alberto Korda. Fitzpatrick is still alive but neither he nor Korda's estate will get anything from the stamp because the image was not copyrighted.

Many people from Ireland oppose the left-wing ideology. But some say that Che depicted the better nature of a man who fought for moral causes and not for material needs. But Ireland generally hates the idea of celebrating violence. Some officials stated that a barbaric interrogator who executed hundreds of 'class enemies' shouldn't be given this honour.

The Cuban Americans in Miami have also started a letter-writing campaign to the postal service in Dublin. The stamp is worth 1 euro and the first set of 122,000 stamps is already sold out.