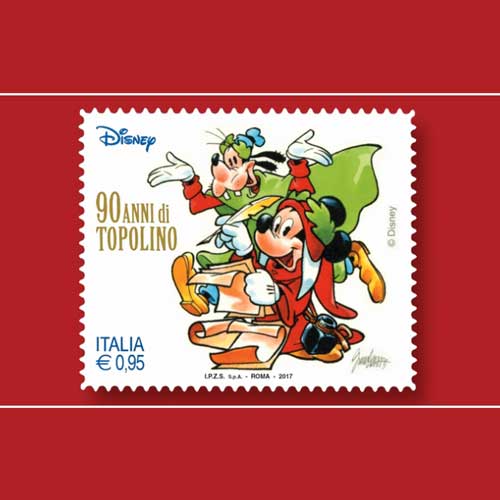 Italy Celebrates Cartoon Character Mickey Mouse's 90th Birthday
01 Dec 2017 Fri
It has been forty-seven years since San Marino's trailblazer set of 10 stamps, depicting Walt Disney's characters were issued from all the countries. Even Italy has decided to fill generational gaps with stamps, celebrating the 90th birthday of the world-famous cartoon character Mickey Mouse. This is, according to Poste Italiane, a good way to attract youths to stamp collecting.

The Nov.8 edition of Topolino will include a free Mickey Mouse stamp to tempt budding stamp collectors. Youngsters present at the launch of the Italian Disney stamps in Lucca was asked to define philately, but none of them knew the answer.

On 3rd November, Italy issued its 90th-anniversary tribute to the official mascot of the Disney Empire. The set includes a single €0.95 stamp produced in sheets of 28 and a pane of eight €0.95 stamps with different designs.

The single stamp depicts a parody of Dante's masterpiece Divine Comedy with Mickey as Dante and Goofy as the poet Virgil. Italian sculptor, painter, and cartoonist Angelo Bioletto created the drawings for this parody, which appeared in Topolino in 1950.

The stamps in the pane of eight represent memorable stages in the development of the Mickey Mouse character, and some of them also showcase the work of Italian Disney artists.

The first stamp shows Mickey Mouse in the 1928 animated film Steamboat Willie created by Walt Disney and Ub Iwerks. The second stamp is from the 1930s and it showcases Mickey in short trousers and Minnie Mouse, and it is created by Floyd Gottfredson, followed by Gottfredson's Mickey and Goofy as they appeared in the 1940s and Mickey and Pluto in the 1950s as drawn by Paul Murry.

The stamp in the center of the pane features the same Divine Comedy design as the single stamp.

Pictured next are Mickey and Atomino Bip Bip created by Romano Scarpa in 1959. Scarpa's prolific creativity added many popular characters to Topolino, such as Trudy and Dickey Duck.

Representing the 1980s is Mickey and Goofy in Sword of Ice, one of the epic series created by Massimo De Vita. Beginning as a staffer of Topolino in the 1960s, De Vita later created comics miniseries, such as Time Machine.

And the last stamp depicts the 2017 version of Mickey and Minnie Mouse, created by Cavazzano, who made his Disney debut in 1967 while a staffer of Topolino in 1967. Two postmarks from Italy also have a Disney theme. A 1988 postmark showing Mickey Mouse salutes a stamp exhibition on Disney characters held in Milan. On Dec. 5, 1993, a similar postmark was used in Rome to celebrate 60 years of the weekly Topolino published then by Panini Comics, now by Lucca Comics.