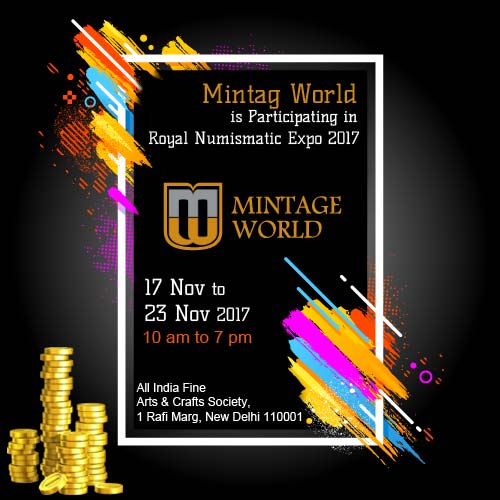 Join us at Delhi's 'Royal Numismatic Expo'
15 Nov 2017 Wed
Mintage World is participating in Delhi's Royal Numismatic Expo 2017. The event will start on 17th November and will go until 23rd November from 10 am to 7 pm at All India Fine Arts and crafts Society, 1 Rafi Marg, New Delhi. This is one of the most awaited exhibitions of India as it is located in the heart of the country.

For the first time in Delhi, Mintage World will be selling the high-quality accessories and products of stamps, coins and currency notes. You can also buy these products on our website.

We have come up with something new called, 'Mintage Photo Pro'. You can come with any one coin/note/stamp to our stall and we will click a high-resolution image for free. So don't miss the chance of getting a free service from us at stall nos. 17, 18 and 19.

The collectors and dealers will be showcasing their unique and rare collection. You can go around these metal beauties and enjoy the exhibition.

You can come to our stall with any query related to coin, stamps, and notes. We will be there to help you... So see you soon till then keep collecting.