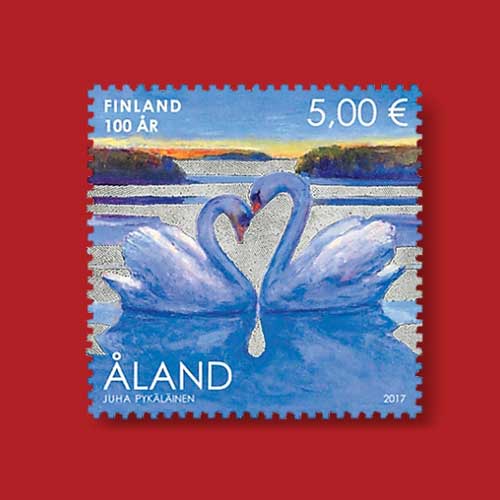 The Most Popular Stamps of Aland in 2017
13 Feb 2018 Tue
Aland is an autonomous region of Finland which has been releasing its own stamps since 1984. Aland Post's website conducted a poll in November and December to identify the most popular stamps of the region. A €5 stamp featuring two swans was voted as the most beautiful stamp issued by Aland Post in 2017.

It was released on 24th May to celebrate the 100th anniversary of Finland's Independence. Created by Juha Pykalainen, the design is based on the anniversary year theme of "together." The designer wanted to represent togetherness by highlighting nature as it is a very integral part of the country. Though whooper swan is the national bird of Finland, the artist chose to feature mute swans. Their necks make a heart and a small tear of silver represents the difficult times of Finland's history.

Second in line was a Europa stamp featuring Niclas Nordlund's photograph of Kastelholm Castle which is the only medieval castle in Aland. It was built in the 12th century and rebuilt several times after that. The word "Europa" indicates that the stamp is a part of the Europa series. It was released on 9th May last year.