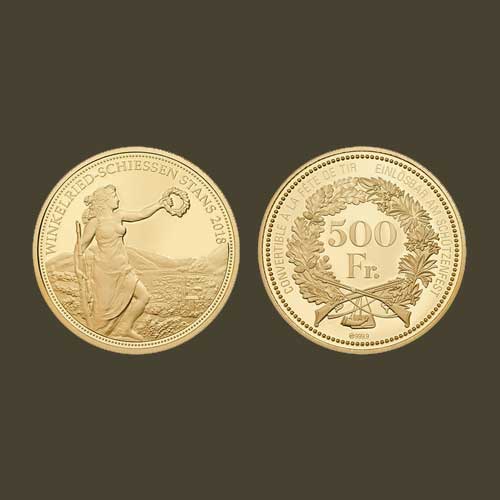 2018 Silver, Gold Medals for Swiss Shooting Festival
13 Feb 2018 Tue
Switzerland conducts a federal shooting festival once in five years where more than 50,000 people showcase their shooting skills. Smaller fests are also held every year. Stans, Nidwalden will be hosting this year's annual shooting festival. The tradition of marksmanship started in the 15th Century during the Old Swiss Confederacy. Crossbows were used by participants in those times.

The 2018 silver and gold medals feature a German legend to honour the event. A standing, partially draped Helvetica extends a wreath of laurel in her left hand and holds a rifle in her right. Mountain towns and the Swiss Alps are shown in the background.

The reverse features the traditional wreath around the denomination 50 FR for the silver piece and 5000 FR for the gold medal. The design also depicts a marksman's powder horn and bandolier hangs from two crossed firearms. A legend appears in both French and German. It states that the piece is redeemable during the shooting festival.

The host city for this year Stans is popular for the old Swiss confederacy Arnold von Winkelried. It is believed that Arnold's sacrifice helped the Swiss at the Battle of Sempach in 1386, against Habsburg Duke Leopold III of Austria. This year's event is also named Winkelried Shoot to honour the hero. Stans also has a memorial and statue of Winkelried.

The 25 grams Proof .900 fine silver taler medal and has a mintage limit of 1,750 pieces and it can be bought for $99.95 each. The 15.567 grams Proof .999 fine gold taler medal has a mintage limit of 275 pieces and can be purchased for $1,499.95 each. The mintage limit is much higher than last year's releases.