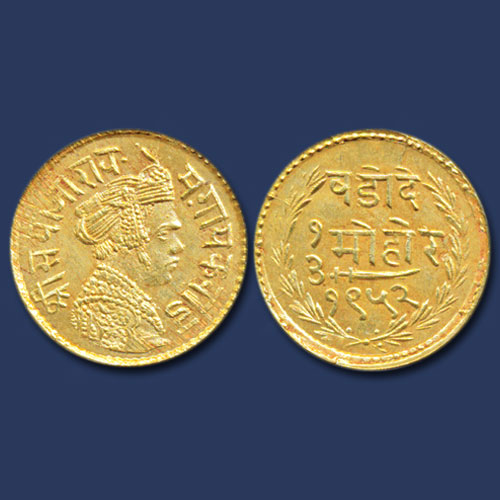 One-third Mohur of Baroda sold for INR 70,000
12 Jan 2018 Fri
Sayaji Rao III was the Maharaja of Baroda from 1875 to 1939 CE. He issued this gold mohur in 1895 AD (1952 VS). It was sold for INR 70,000 by Todywalla Auction.

The State of Baroda was ruled by the Gaekwad dynasty of Maratha confederacy. The ruling dynasty descended from Damaji Rao, a Maratha soldier. This coin depicts bust of Sayaji Rao III in the centre facing right. The divided legend in Devanagari script reads 'Sri Sayaji Rao Ma Gaikwad'. The reverse of this coin illustrates name of the state, denomination scimitar and Vikram Savant date.

A similar coin was sold for 1 Lac in the United Kingdom in September 2013 and a similar coin was sold for INR 85,000 by Todywalla Auction in April 2017.

To know more about this coin click here.