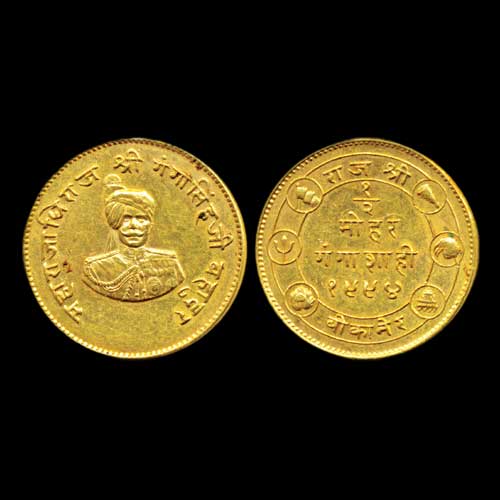 Half-Mohur of Ganga Singh Bahadur of Bikaner
14 Dec 2017 Thu
Bikaner is located in Rajputana, meaning the 'Land of Rajputs'. It is a city located in the Northwest state of Rajasthan in Northern India. A second largest state in Rajputana, Bikaner was earlier known as Jangladesh.

The city of Bikaner was established by a Jodhpur Rathor Rajput named Rao Bikaji in the year CE 1465. During the period of the great Mughals, Bikaner was intimately linked to Delhi by ties of both loyalty and marriage. Both Akbar and Jahangir had married to the Princess of Bikaner Rajputs. Bikaner came under the British influence in the year CE 1817 and in 1947 it was incorporated into the modern state of Rajasthan after independence.

This gold half mohur was issued by Ganga Singh Bahadur in V.S (Vikram Savant) year 1994. The weight of the coin is around 4.3 g. The obverse of the coin depicts the bust of the king facing front in the centre with the Devanagari legend 'Maharajadhiraj Ganga Singh Ji Bahadur' around. The reverse of the coin is inscribed as 'Rajshri' and 'Bikaner' written on the top and the bottom of the coin with the symbols of the coin around, centre of the coin is inscribed as '1/2 Mohur Ganga Shahi' with V.S date 1994.