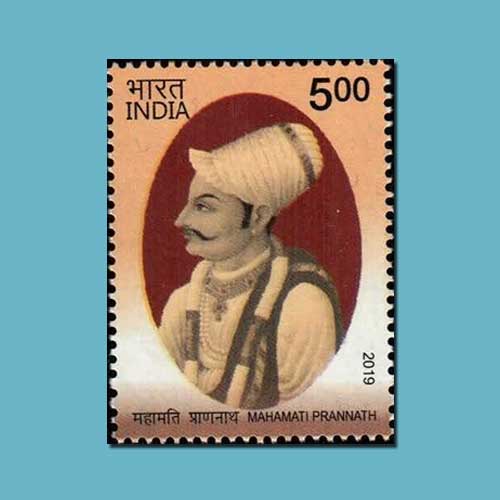 Mahamati Prannath featured on Indian stamps
18 Nov 2019 Mon
Mahamati Prannathji belonged to Pranami Sampraday, who traveled throughout the Indian subcontinent and the Arabian world including Oman, Iraq, and Iran In his task of promulgating the faith.

He was born 26th of October 1618, to Keshav Thakur, Diwan of Jamnagar state. His given name was Mehraj Thakur, and afterward, he came to be known as Mahamati Pran Nath.

He also attended Kumbh Mela at Haridwar in 1735 and was engaged in religious debates in which he conveniently became victorious and was conferred the title of "Niskalanka Bijayaabhinand Buddha Avatar" by the saints of various sects and creeds. He emphasized the oneness of Muslim and Hindu faiths and established a universal religion- a religion of mankind for all mankind called "Nijanand Dharma" or the blissful religion for the souls.

To honor him India Postal Department has issued a 500 Paise (5 Rupees) commemorative postage stamp in 2019. It features an image of Mahamati Prannath facing left.

Visit philamart to view and purchase variety of stamps from all over the world.