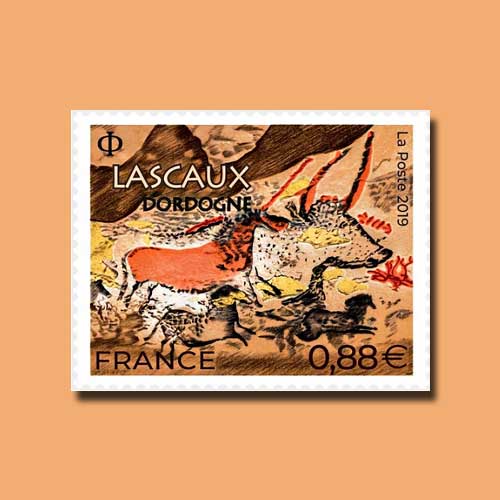 France Post Features Lascaux Cave
02 May 2019 Thu
La Poste issued a special stamp featuring one of the most famous tourist attractions in France – the Lascaux IV caves.

Nestled at the foot of the hill below the original Lascaux and Lascaux II, Lascaux IV was opened for public in December 2016. This is the first time in 50 years that there have been official La Poste stamps featuring designs inspired by Lascaux.

Designed by Elsa Catelin, this beautiful stamp features some prehistoric painting that can be found on the walls of the cave. The stamp shown above is a 0.88 Euro stamp that features the mountainous scene slung with the wild beasts.

The stamp is inscribed with the name of the site at the top left corner with the year of issue on the top right corner. The name of the country and the denomination value are seen at the bottom.

Image Courtesy: https://www.languedocliving.com Visit philamart to view and purchase variety of stamps from all over the world.